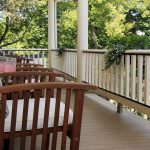 The state of Arkansas has lifted its restriction on out-of-state recreational travel for "non-hotspot states," and we are reopening May 8th, 2020.
We have had to make some changes to the way we operate due to the Covid-19 situation. While we have always gone above and beyond the industry standards for cleaning, we are paying extra attention to the small details. We are removing excess decorative accents such as throw pillows, bed scarves and magazines. We now offer Breakfast-to-Go as a replacement option if you feel uncomfortable eating in our common dining room area. Weather permitting, outdoor seating will be available and if you prefer no breakfast, we are offering you a discount.
-We still don't allow guests or staff on site who have any symptoms of fever and cough or who have been overseas recently along with New York, New Orleans, New Jersey, and Connecticut.
-Self check-in is always available for guests to get to accommodations while also social distancing.
-While preparing and serving breakfast we are following CDC guidelines and will be wearing masks and gloves.
-We will not be providing daily housekeeping, but rest assured we will still provide you with our many amenities.
-We provided ample hand washing and anti-bacterial facilities for all guests.
-We conduct a verbal briefing for all guests reminding them to be mindful about placing hands near mouths, hygiene practices & courtesy for other guests.
-We continue to practice social distancing and therefor will not shake hands.
-We always allow guests to reschedule without losing money should the situation change.
Our top priority is always our guests – your health, safety, peace-of-mind, and comfort are at the forefront of our minds. We'd like to thank you for trusting us with your travel plans, both past and future.