The enchanting Heartstone Inn Bed and Breakfast
will stir your heart and relax your mind.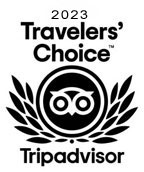 An inviting wrap-around porch spilling over with brilliant geraniums, greets visitors to a sprawling 1903 Victorian home on a wooded acre on the Eureka Springs, AR Historic Loop. Beautifully landscaped grounds and large multilevel decks shaded by towering trees make a comfortable oasis. Follow a tree-lined walkway to Eureka Springs' historic downtown which is filled with unique shops, art galleries, restaurants and springs. The Eureka Springs trolley stops outside the bed and breakfast and is a wonderful way to experience Eureka Springs in all her glory.
Our attention to detail, amenities and personal concierge service sets the Heartstone Inn apart.
We strive to give all of our guests personal service for an unforgettable experience that will leave you dreaming about your next trip. Don't exhaust yourself researching your getaway! Let us give you the insider's scoop on the local hidden gems, must-see attractions and the best places to eat in Eureka Springs.
Named as one of the "Most Charming Small Towns in America"
Eureka Springs is only a short drive to Northwest Arkansas'
Crystal Bridges Museum and Branson, MO.
Visit Eureka Springs, Arkansas
Anytime of year is perfect for a visit to Eureka Springs, AR and a stay at the Heartstone Inn Bed and Breakfast
Spring, Summer, Autumn or Winter, each season has its own magic to enjoy. Our decks and verandas are the perfect spot for enjoying the abundant "backyard" wildlife. Many varieties of birds, ground hogs, raccoon families, chipmunks, squirrels and deer visit the estate adding enjoyment and relaxation at the Heartstone Inn Bed and Breakfast.
Heartstone's Innkeepers
Rick and Cheri Rojek share the passion of creating a memorable experience for guests at the Heartstone Inn and Cottages in Eureka Springs, AR.
"We both strive for perfection in the attention to detail whether in cleanliness standards or food preparation. We take great pride in ownership and have an obsession for service attentiveness. We truly care about our guests."
As Innkeepers, Rick and Cheri enjoy traveling to experience new culinary delights, which inspire them to keep Heartstone's kitchen on the cutting edge. Rick loves to create unique gourmet breakfasts for the guests and Cheri bakes incredible culinary treats served on the deck each afternoon.
Rick developed his high standards in luxury corporate hotels as a manager with Westin and Ritz Carlton Hotel Companies. Cheri's unparalleled warm and accommodating customer service skills were honed in retail customer service. When Rick and Cheri wanted a change of scenery and less corporate careers they searched the United States for the perfect property. They discovered the Heartstone Inn estate in Eureka Springs, Arkansas and made the enchanting B&B their home.
"Almost twenty years later we still enjoy every day and even train aspiring innkeepers. We hope you'll choose to visit us in this beautiful part of the Arkansas Ozarks."
---
Pamela Lanier's Bed and Breakfast International 2010 & 2011 – Best Breakfast!
---
Heartstone Inn Mugs and 3-3oz. Wildflower Scented Soaps are gift boxed
with the Heartstone Inn logo are available in our gift shop, click here
The Little Details: (policies for all rooms)
A full gourmet breakfast is included in all rates.
There is a two-person maximum per room except in the Victoria House Cottage, which can accommodate up to 4 guests.
There is a two-night minimum stay on most weekends with a three night minimum stay on some holidays and special events.
Smoking is limited to outside porches and decks.
Check-in time is 3 p.m – 8 p.m. Check out time is 11 a.m. Late check-in is by prior arrangement only. If, for any reason you find that you cannot arrive by 9 p.m., please phone us for late check-in procedure.
Children ages 10 years or older accommodated.
Sorry, no pets.
Deposits
Full payment is required in advance on one night stays; 50% deposit required on extended stays. Balance due upon arrival.
No refund for early departures.
14-day cancellation notice required for refund less $20.00 per room processing fee.
Deposit is non-refundable if cancellation is received less than 14 days before intended arrival date unless room is re-rented for those dates. If cancellation occurs within 24 hours of the arrival date the full amount of stay will be charged.
Discount on extended stays of five or more nights.