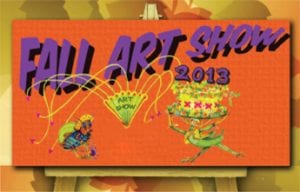 Thanksgiving weekend forget Black Friday, scratch Cyber Monday. Explore instead a fantastic alternative to those stressful holiday shopping methods at Eureka Springs School of the Art's Fall Art Show.
Hundreds of artists take over the Inn of the Ozarks Convention Center (Just across the street from our Inn)  to present and sell their artwork—offering great holiday gifts for all.
Enjoy this unique opportunity to converse with these local artists regarding their art and their process. Featured at the show will be ESSA founders Eleanor Lux, Mary Springer, and Doug Stowe, in addition to perennial favorites Valerie Damon, Zeek Taylor, Terry Russell, Les Brandt, and Chon Stanley. Two-dimensional, three-dimensional, fiber, wood, clay, glass, and metal art will all be on display for you to purchase.
The event opens on Saturday, November 30th and runs from 10am – 7pm and continues on Sunday, December 1st from 10am – 2pm. This event is open to the public. Admission is $5.