A Stunning Fall Escape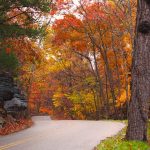 Few places in the world are more charming and beautiful in the fall than downtown Eureka Springs. Eureka Springs is a well-preserved Victorian town in northwestern Arkansas. It's a very accessible city from a large swatch of the United States and is surrounded by the gorgeous Ozark Mountains and beautiful lakes and rivers.
Today, set against the beautiful Victoria backdrop of downtown Eureka Springs, visitors enjoy the stunning mountain scenery, a welcoming hip and trendy vibe, and plenty of fantastic Eureka Springs attractions. Whether you'd prefer to spend your time on the streets shopping, eating, and admiring the historic Victorian architecture of downtown Eureka Springs, or rather get out into the mountains to explore, there's no shortage of great things to do in Eureka Springs this fall.
Select Registry is a group of boutique Inns and Bed and Breakfasts around the country – many of whom are gearing up for a spectacular season of vibrant colors, fantastic food and wine experiences throughout local harvests, and the cozy season ahead filled with romantic getaways and special celebrations. We know an exciting destination when we see it – and downtown Eureka Springs checks all the boxes regarding warm, welcoming getaways, romantic destinations, and exceptional fall beauty.
In the town of Eureka Springs, you'll find two historic Select Registry Bed and Breakfasts. Each of them offers one-of-a-kind romantic lodging. Not only are our unique Eureka Springs Bed and Breakfasts exceptional places to stay while visiting downtown Eureka Springs, but there are so many things to do once there, too.
Visit Basin Springs Park in downtown Eureka Springs
THE BEST OF DOWNTOWN EUREKA SPRINGS
If there's one thing to know about Eureka Springs, there's a lot to pack into this small, charming, and historic town. It may not have any stoplights, but don't let that fool you! The winding, gorgeous streets of downtown Eureka Springs have an allure like no other. It is filled with charming shops, delicious date-night-perfect restaurants, and plenty of fun attractions.
Downtown Eureka Springs is filled with much more than just beautiful preserved Victorian buildings, though. These quaint streets are also packed with more than 100 unique shops and art galleries to explore – truly a shopper's paradise! Below, we've listed a few of our favorite ways to kick back and enjoy a day in beautiful and historic downtown Eureka Springs.
In a city filled with so much history and beautiful architecture, it probably comes as no surprise that one of our favorite things to do in downtown Eureka Springs is to take an Underground Walking Tour or Historic Tram Tour.
Shop until you drop! It's one of the best things to do in downtown Eureka Springs. There are hundreds of fantastic shops, including popular favorites like Soap Stop & Body Shop, Iris at the Basin Park, Just Between Friends, Gourmet Eureka, Small World, and so much more.
Downtown Eureka Springs is also a haven for art lovers. There are more than 400 working artists in the town and plenty of magnificent art galleries. Eureka Springs has been named one of America's Top Small Art Towns – talk about a great place to pick up a new piece for your collection!
If you're looking for a place to relax, our favorite place to take a break is Basin Spring Park. The park is the site of an ancient healing spring once used by Native Americans and early settlers to the area.
Enjoy some tasty treats in downtown Eureka Springs! Not only are there great restaurants here, but there are fun shops to grab a snack or treat, including Two Dumb Danes Fudge Factory, Silly Chile, Fresh Harvest Tasting Room, and more.
Attend one of the many wonderful events in downtown Eureka Springs – this fall is no exception to great fun in the Ozarks!
Thorncrown chapel is one of the top attractions in downtown Eureka Springs
MORE THINGS TO DO IN EUREKA SPRINGS
If the beautiful streets of downtown Eureka Springs aren't enough to keep you enthralled during your time at one of our Eureka Springs Bed and Breakfasts, then the vibrant beauty of the Ozark Mountains in the fall will be.
We know New England, with popular destinations like Vermont and New Hampshire, has a stellar reputation for fall foliage. New England isn't the only great place worth visiting this fall. There's something extraordinary about underrated destinations that are still just as magnificent in the fall – and downtown Eureka Springs is one you should add to your list.
There are so many things to do in Eureka Springs. We've listed a few of our favorite ways to enjoy this quirky yet beautiful town below – including some of our favorite places to enjoy the vibrant beauty of fall foliage in Eureka Springs!
1.Get inspired at Thorncrown Chapel. With 6,000 square feet of glass and 425 windows, this breathtaking work of art is undoubtedly one of the most beautiful things to do in Eureka Springs.
2.Visit the Blue Spring Heritage Center and learn more about the legendary healing springs of downtown Eureka Springs.
3.Visit the big cats and animals at Turpentine Creek Wildlife Refuge.
4.Visit the strange gardens at the unique Quigley's Castle.
5.Head underground at Cosmic Cavern, the largest cave of its type in Arkansas.
6.Head to Lake Leatherwood City Park for a paddle, hike, or bike ride.
7.Take a hike at Hawksbill Crag. It offers some great overlooks of the Ozark Mountains. Other great hikes include those at Dogwood Canyon, which stretches across the Missouri-Arkansas border and offers exceptional views of the Ozark Mountains.
8.Enjoy a hike or float on the Buffalo Natural River. It's great during the summer but simply spectacular in fall.
9.Take a scenic drive through the winding mountain roads of the Ozarks. Two great drives include the Scenic 7 Byway and the Pig Trail Scenic Byway.
10.Skim through the treetops with Ozark Mountain Ziplines, and enjoy an up-close birdseye view of the fall foliage.
11.Take a haunted ghost tour at the famous Crescent Hotel, which is known as America's most haunted hotel! Talk about unique things to do in Eureka Springs!
12.Enjoy beautiful fall scenery from the water aboard the Belle of the Ozarks.
While visiting downtown Eureka Springs and enjoying all of these marvelous things to do in Eureka Springs this fall, don't miss the opportunity to stay at the best Eureka Springs Bed and Breakfasts. The fall getaway of your dreams is just around the corner!

Heartstone Inn & Cottages
The Heartstone Inn B&B has 11 contemporary, comfortable, and thoughtfully designed rooms, suites, or cottages located on the Historic Loop of Eureka Springs, Arkansas in the Ozark Mountains. Although close to downtown, the Inn is quiet and calming with multiple decks overlooking gardens that inspire nature and bird watching.
Start your day with an extraordinary full breakfast served at your private table. Innkeepers Rick & Cheri Rojek are celebrating their 20th year owning the Heartstone Inn. Gentle hospitality awaits with helpful suggestions and personal service.
Beautifully appointed accommodations include the finest luxury amenities offered in the lodging industry. All rooms, spacious suites, and two cottages are dressed with fine linens, have a well-lit, comfortable sitting area, and offer privacy and solitude.
Walk to shops and restaurants, drive to nearby wineries, or simply relax on the veranda with a glass of wine. The trolley also comes right by. Famous for our world-class art, architecture, crafts, shopping, dining, attractions, rich heritage, and colorful history, make this the perfect destination for your next vacation.