Top 5 Reasons to Visit in August
1. August 2nd & 3rd 
It's time for the annual summer city-wide Yards & Yards of Yard Sales.
Come and enjoy Eureka and find that special treasure you've been searching for.  Yard sales all around town open from 8AM-5PM.
Maps available at the Chamber of Commerce.  For more info visit http://www.eurekaspringschamber.com.
2. Blue Grass Blast –August 9th & 10th
FREE Live Bluegrass in the Basin Spring Park band shell.
August 9th–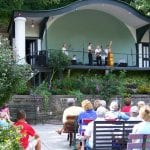 3 pm Casey & The Attaboys
5:15pm Old Salt Union
August 10th–
3pm Casey & The Attaboys
5:30pm Po Ramblin Boys
3. August 9th Concert at the Auditorium
"Alt at The Aud" summer concert series, featuring Moulton/Modeling.
All ages – Doors at 8 p.m
$10 per person at the Gem Event Space in the historic Eureka Springs City Auditorium!
For more info:
4. August 17th Basin Park Music Series
FREE Live Music in Basin Spring Park from 5:30 to 7:30 PM with local favorites, The Cate Brothers.
5. August 23rd – 25th   27th Annual VW Weekend!!!
  This is the ultimate car show weekend.  It's not just for the fancy show cars…it's for all of you.  Bugs, vans and everything in between.  There will be lots of vendors with those much looked for parts and accessories. One of Cheri's favorite events each year!
Wait, here's one more reason: 
6. August 28th – 31st Banjo Rally since 1975     
Banjo Rally International is an annual gathering opportunity for players of all acoustic instruments. We focus on players of 4-string plectrum and tenor banjos, but all acoustic instrument musicians are welcome to attend and perform, including players of 5-string banjo, ukulele, mandolin, guitar, piano, tuba, string bass, stumpf fiddle, washboard and even a few front-line horns (clarinet, trombone and trumpet – usually played by those who also play banjo or other string instruments).
The skill level of players ranges from beginner to seasoned professional. Participants range in age from 10 to 95 years of age.