Explore Eureka Springs
Eureka Springs is an "Extraordinary Escape." Nestled in the Ozark Mountains and surrounded by lakes and rivers, is beautiful anytime of the year. This vacation spot has been a favorite destination of tourists for hundreds of years. Come to hike, swim and explore the fabulous lakes,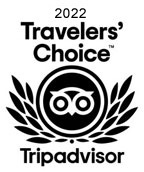 rivers and caves. Visit the Quaint town and ride the Trolley Service to shop in the Historic District. Art and history buffs will want to visit the many art galleries and museums. No matter which outing you choose, you'll want to stay long enough to visit it all or come back again to see what you missed!
We love people and we love food
Our chef is our Innkeeper, our Innkeeper is our chef! Preparing and sharing sweet, savory, and scrumptious food is a passion we look forward to every day. Your perfect day at the Heartstone Inn Bed and Breakfast in Eureka Springs, AR starts with an amazing full breakfast served at your own private table in the sun-filled dining room. Our entire menu is homemade using fresh local ingredients. We're sure you'll want our Bigger, Better, Breakfast and Brunch Cookbook to recreate these recipes at home.