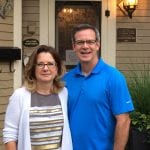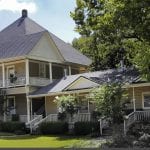 Owners Rick & Cheri Rojek celebrate twenty years of accommodating hospitality for over 68,000 guests. Visitors have traveled from all 50 states and 10 foreign countries to this full-service BnB — a beautifully restored southern estate with wrap-around porches and trailing geraniums. Rick and Cheri have cracked 200,000 eggs to create 65,000 gourmet breakfasts and outrageous afternoon treats for their guests.
Heartstone's famed recipes and cooking secrets can be found in their notable cookbook, "Bigger, Better Breakfast and Brunch Cookbook" which has sold almost 8000 copies.
The elegant Inn, a sprawling 1903 Victorian home has hosted 1644 happy brides and grooms in 822 unforgettable weddings. Heartstone Inn has become an Inn-stitution in Eureka Springs, reflecting the laid-back culture of the Ozarks. Rick and Cheri look forward to introducing travelers to the natural charms and relaxed pace of Eureka Springs and the Ozarks for many years to come.