The 30th Annual May Festival of the Arts is a celebration of the Arts all month long in Eureka Springs. It is a beautiful time of year to visit, the weather is nice, the flowers are blooming, and the events are noteworthy! Our little town is always colorful, you can be sure we outdo ourselves this month.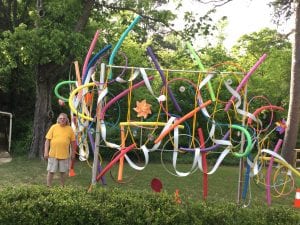 This is George Paige, the artist responsible for the art installation in our yard this month for the Yard Art contest, The Art of Play. You will find unique exhibits all over the Historic District.
The month starts off with the ArtRageous Parade through downtown. Expect many, many gallery special events, music shows, wine events, art classes, and Mother's Day events. Check out the calendar of events. We're positive you will find something that interests you!
One of the favorite events is the 27th Annual White Street Studio Walk will take place Friday, May 19, from 4 p.m. until 10 p.m. Historic White Street is the working address of several local artists who will welcome the public into homes and studios to view their latest works. They will be joined by more than forty guest artists from the Eureka Springs area, who will show weaving, watercolors, jewelry, oils, pottery, stained glass, and much more.
A new event is the Eurekan Spectacle. It is an augmented reality based experiential app that allows users to witness a Shakespearean play at various real-world locations around Eureka Springs. The Eurekan Spectacle will go live May 1st with a launch party to follow on May 4th at 6pm in Basin Spring Park. Visitors will be directed to www.eurekanspectacle.com.
Hope you'll come see us!