When you visit this year you may be surprised by how many new shows we have in town. There is definitely something for everyone. If you are interested in magic, cabaret, country or variety we have loads of entertainment for you in the evenings. Don't forget the Great Passion Play is also open for the season and Opera in the Ozarks begins its 65th season June 19!
 Just up the street from us, held in a beautiful old stone church is Intrigue Theater.  They just spent all winter in the Caribbean as part of the entertainment on a cruise ship, and now they're back in Eureka Springs for their 3rd season. A very entertaining show of Illusion, magic and mind reading!
The George Brothers are performing at the Pine Mountain Jamboree this season. They used to headline the Ozark Mountain Hoedown with great success, so successful they eventually went on tour. They're back this year with P.Nut and Ponytail and are putting on a great show!
 Lovin' Every Minute is a variety show in the Auditorium downtown this year with big production numbers. Steve Kinworthy and his talented cast of singers and dancers perform exciting live stage production numbers. It's eye popping production and vocals are backed up nightly by incredibly talented musicians.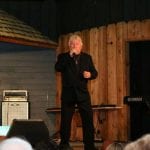 Mark Wayne Beers is a singer,songwriter and drummer who started a new theater in  the Gaskin Switch Shopping Center this year. Mark's concerts are up close and personal in his small 50 seat theater where he performs 50's Rock and Roll, Country and Gospel music.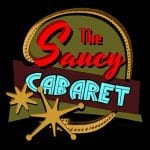 The Saucy Cabaret is a variety comedy show with three performers who have decades of professional show business experience between them. It will be held at the Main Stage Theater downtown, mostly on Monday nights.